Micro Be to the race of the Titans!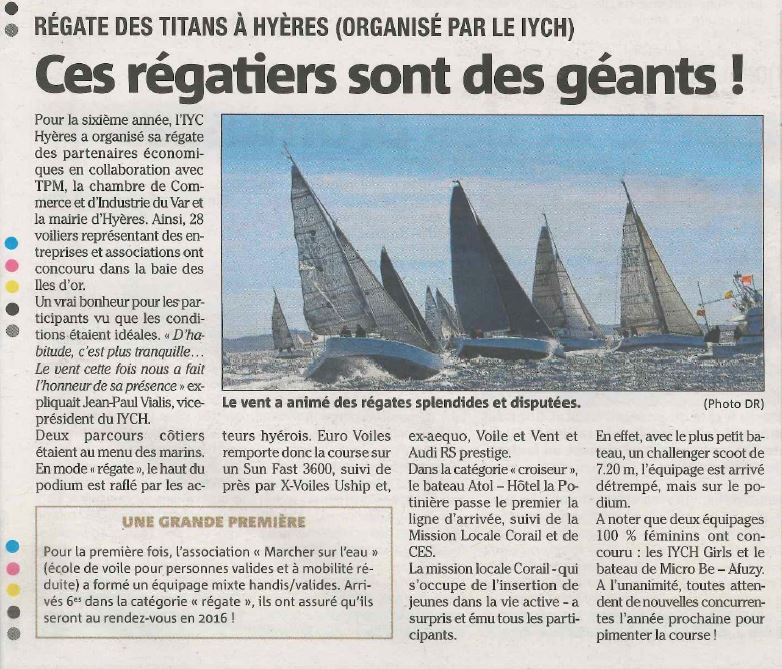 Race of Titans in Hyeres (organised by http://www.iych.fr)
These sailors are giants!
For the sixth year, the Yacht Club of Hyeres-Les-Palmiers organized its race of economic partners in collaboration with TPM, la Chambre de Commerce et d'Industrie du Var and the town hall of Hyeres.
Thus, 28 sailboats representing companies and associations were competed in the "Golden Island" bay.
A real happiness for the participants as the conditions were ideal.
"Usually, it is more quiet… this time, the wind did us proud with his presence" explain Jean-Paul Vialis, vice-president of IYCH.
There was two coastal routes for the marines.
In "regatta" mode, the top of the podium is won by Euro Voiles (A company in Hyeres) on its Sun Fast 3600 boat.
It is followed by X-Voiles Uship and ex-aequo "Voile et Vent" and "Audi RS Prestige".
In "cruiser" category, the boat "Atol – Hôtel La Potinière" arrived at first at the finishing line, followed by "Mission Locale Corail" and "CES".
The "Mission Local Corail" who insert young people in the active life has surprised and moved all participants.
Indeed, with the smaller boat, a scoot challenger of 7,20 meters, the team arrived wet but on the podium.
Please note that two 100% women's team participated : "the IYCH Girls" and "Micro Be – Afuzi" boat.
Unanimously, all of them are waiting for new women competitors next year to pigment the race!
Picture legend: The wind animated the splendid regattas and played.
First time
:
For the first time, the association "Marcher sur l'eau" (Walking on water) – Sail school for valid or disabled people - formed a mixt team handis/valid.
Arrived 6e in the "Regatta" category, they insure to be here in 2016!