The company MICRO BE in the Var opens a new worldwide market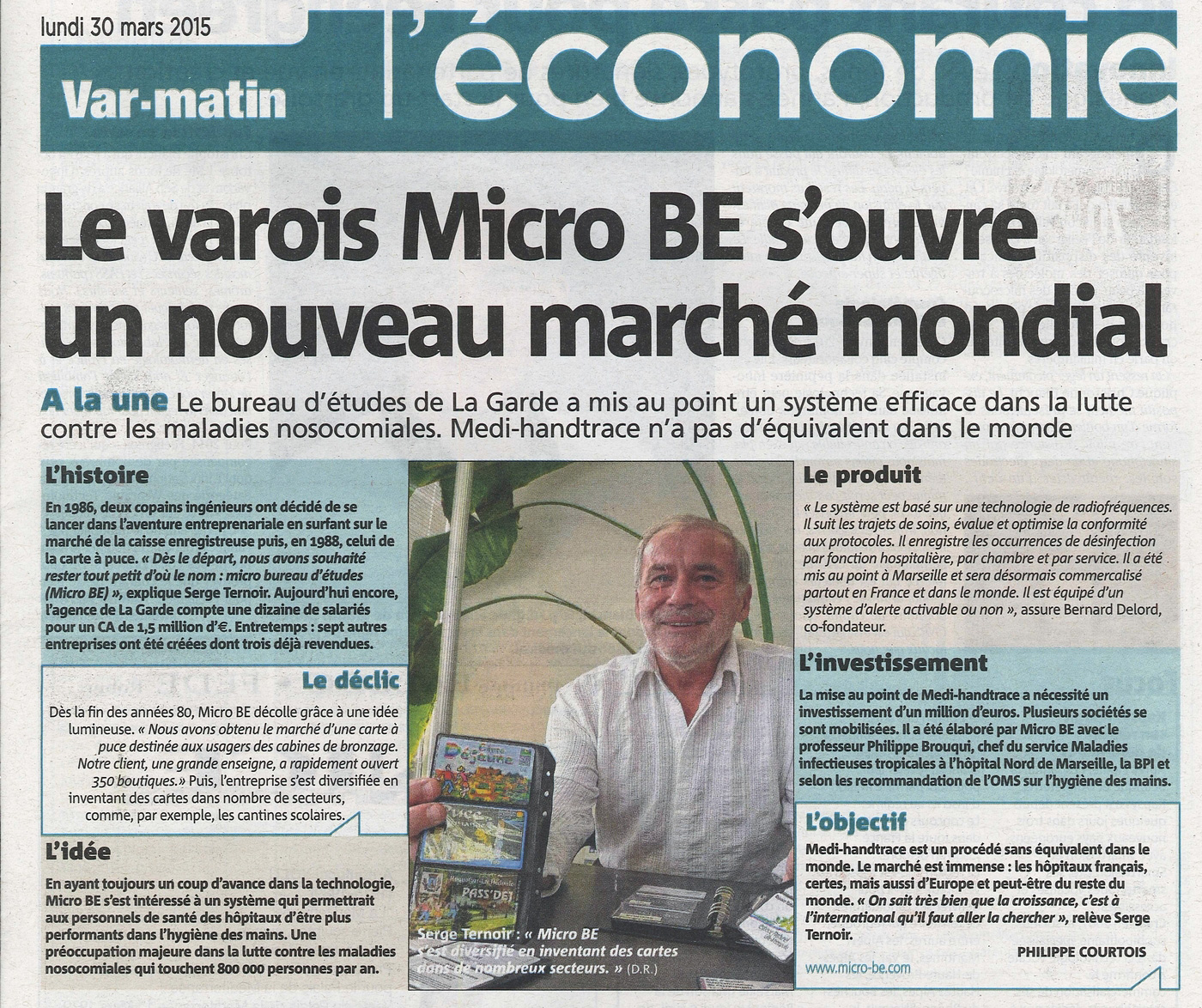 The company MICRO BE in the Var opens a new worldwide market
The engineering office in La Garde developped an efficient system against the nosocomial infections. MediHandTrace has not equivalence in the world.
History:
In 1986, two ingenieers friends decided to embark on the business adventure by surfing on the cash register then, in 1988, that of the smartcard.
"Since the beginning, we wished to stay a small company, that's explain the name : Micro Bureau d'Etudes (Micro BE), says Serge Ternoir.
Still today, the agency in La Garde has a dozen of salaries for a turnover of 1,5 millions Euros.
In the meantime, seven other companies were created of which three already sold.
When things fall into place
In the end of 80's, Micro Be takes off thanks to an good idea. "We had obtained a market of smartcard destined for bronzing cabins.
Our client, a major brand, opened 350 shops quickly."
Then, the company was diversified by inventing cards for several sectors of activity as catering for schools, for example.
The idea
Always in advance in technology, Micro Be was interested to a system for care workers in hospitals to be more performant in hand hygiene.
A major preoccupation against nosocomial infections which touch 800 000 patient per year.
The product
"The system is based using a radio-frequency technology.
It follows the health pathway, evaluates and optimizes the conformity to protocols.
Depending the hospital functions, it records the occurrences of disinfection, per room and per service.
It is installed in the main hospital in Marseille and will be commercialized everywhere in France and in the world.
it is equipped by a warning system activable or not" insure Bernard Delord, co-founder.
Investment
One million of Euros investment was needed for the focus of MediHandTrace. Several companies were mobilized.
It was elaborated by Micro Be with the Professor Philippe Brouqui, head of Tropical Infections Diseases in North Hospital of Marseille, the BPI and according the OMS recommendations for hand hygiene.
Target
MediHandTrace is a process without equivalence in the world. The market is huge: French hospitals but also in Europe and maybe in worldwide. "We know exactly that the growth must be searched in worldwide", says Serge Ternoir.
Philippe COURTOIS

Var Matin 30 mars 2015
[18/05/2015 16:58] 857 Ko.